Kink University: Latex Fetish: Wearing, Care and Feeding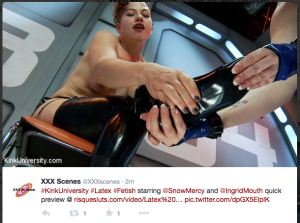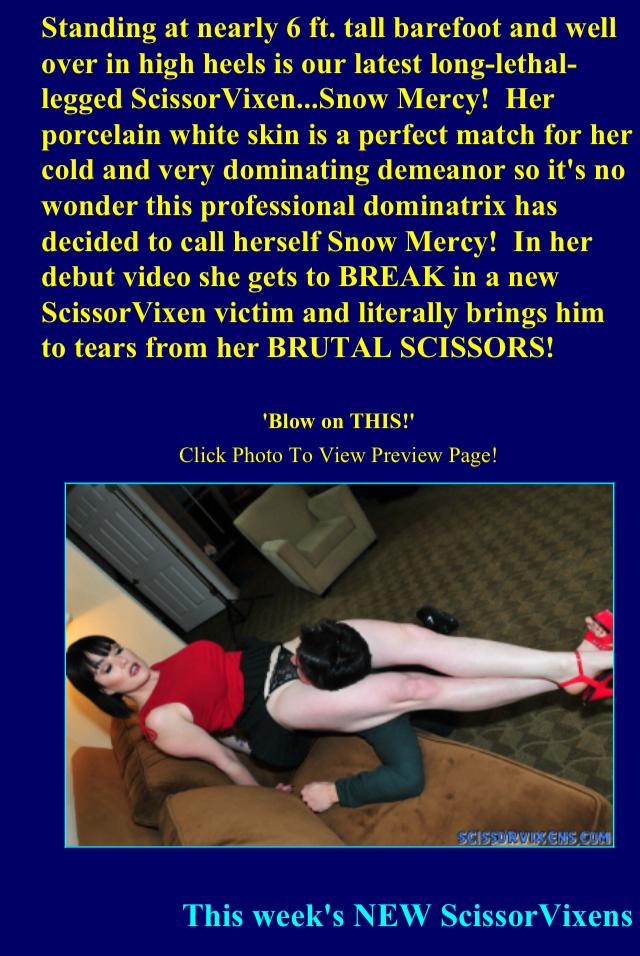 "Spank or Be Spanked" stars Snow Mercy, Nikki Rouge, and Koko Kitten.  It is available at Shadow Lane

"Our Sorority Hell Week" is available at Shadowlane.com and stars Snow Mercy, Nikki Rouge, Sophia Locke, and Mary Jane.

"Spanking Turnaround" stars Snow Mercy, Tom Byron, and Madison Young.  It is available at Shadow Lane

"Lipstick Lesbian Spank" stars Snow Mercy and Nikki Rouge.  It is available at Shadow Lane.
EPISODE #62 Chloe vs. Kailee vs. Snow – 14 Minutes
Kailee heard about Chloe spanking her sister, so she decides to get revenge by spanking Chloe. But when Chloe's roommate Snow sees this, she defends Chloe's honor by spanking, then caning Kailee.
Snow Mercy is Kade's Spanking Roommate
Kade has a crush on his good friend and roommate, fem dom Snow Mercy, but it still does not motivate him to pay the rent on time. Snow gives him a bare ass OTK spanking with her hand and bends him over for some whacks with a wooden spoon. Kade is a pain slut who is always up for good thrashings from dominant women. Snow gets this young gent's bottom very red.
No Ifs, Ands – Just Butts! 2, is a bountiful video clip compilation, wherein the cynosure of each vignette is the well-spanked, blushing seat of a naughty, punished lady.
In response to popular demand, Shadow Lane presents bare bottom spankings close up, featuring our most glamorous and shapely submissives, receiving the corporal punishment they deserve.
In this series, all the spotlights are turned on the bouncing buttocks of 18 beautiful Shadow Lane girls as their flawless backsides are paddled and spanked in classic style. First the viewer gets a quick look at the lovely face of the lady being punished, then it's all rear action to the end of each scene. Needless to say, the spanking in these video excerpts is good and hard!
A big reneck bully (football player sized) is tired of his wife sassing him (played wonderfully by Snow Mercy) so he wrestles her over his knee right in their kitchen and gives her a super hard spanking until she agrees to do a better job tending to his needs. All in good fun, but the spanking is really hard. Just ask Snow.
Sorority Hell Week by Shadowlane.com, starring Snow Mercy, Nikki Rouge, Sophia Locke, Mary Jane.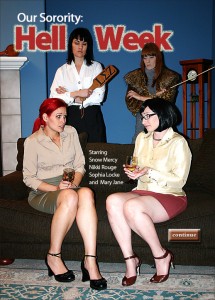 Clips 4 Sale